Custom Closet Organizers NJ - BLOG
by: Custom Home Cabinetry
Spotlight On Organizing !
Subscribe For Access To The Industries
Latest Tips, Trends And Special Offers.
How This Blog Will Benefit You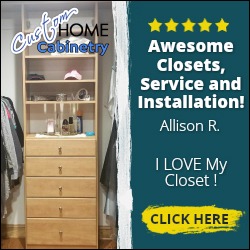 The Organizing industry like so many, is experiencing rapid change and growth. So much so that most consumers find it difficult to keep up with the latest trends, styles, technology, services and more!
That's exactly why we've created this educational & aspirational blog. Our hope is that
you'll gain the info you need
to make the right decision for you and your family.
Don't Ever Miss Out On A New Post
Sign up NOW to be notified each time we make a new post. When you opt-in today you'll also receive a BONUS just for signing up! Let's face it: you only get one chance at a 1st impression right? So, rest assured - you're really going to like what I have for you - I promise!
EMAIL
Support: support@CustomHomeCabinetry.com

PHONE
+1 732.704.7282

LOCATION
62 Carton Street, Rumson NJ 07760